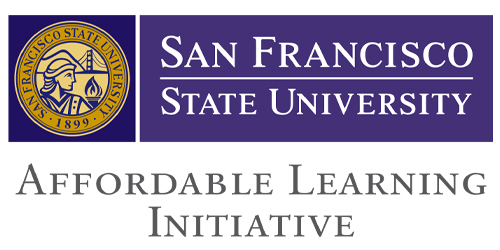 The purpose of the CSU Affordable Learning Solutions initiative is to counteract the rising costs of higher education, by supporting faculty to lower costs of course materials for students, and providing solutions to lower costs of faculty scholarship, research and creative activities. The Affordable Learning Initiative at San Francisco State University is led by Academic Technology and supported by the J. Paul Leonard Library, the Disability Programs Resource Center (DPRC), and the SF State Bookstore.   
The CSU-wide initiative encourages the adoption, revision and/or development of lower-cost or free Open Educational Resources (OER). Faculty can choose from and implement more affordable, contemporary and high-quality course materials while upholding standards of academic excellence. In addition, the Affordable Learning Initiative bridges SF State's commitment to advancing equity and Academic Technology's dedication to promoting diversity and inclusion in teaching and learning. We curate digital resources and work in collaboration with faculty to help grow their pedagogy through this opportunity. 
To expand the Affordable Learning Initiative awareness, Academic Technology promotes faculty success stories through our showcase, develops funding opportunities such as AIM grants and highlights the student perspective. We have also established the AIM Steering Committee and the AIM Operations Team to expand campus collaboration and faculty learning communities.